Yemen's rebel Houthi movement has expressed "deep regret" over a deadly fire at a migrant detention centre in the capital Sanaa earlier this month.
A senior Houthi official said 44 migrants had been killed and 193 others hurt in the blaze, which he described as accidental.
On Tuesday, the United Nations demanded an independent investigation.
Human Rights Watch accused Houthi forces of causing the fire by launching projectiles at the centre.
Witnesses told the group that security personnel and guards had been trying to end a protest by hundreds of migrants, most of them Ethiopians, against conditions there.
The Houthis have controlled Sanaa and much of north-western Yemen since late 2014, when they ousted forces loyal to the government of President Abd-Rabbu Mansour Hadi.
The conflict escalated the following year, when a Saudi-led coalition of Arab states intervened to restore the government's rule. The fighting has left more than 100,000 people dead and triggered the world's worst humanitarian crisis.
UK defends Yemeni aid cuts amid criticism from MPs
Looming battle for Yemen city risks humanitarian disaster
The boy who saved his sister from a sniper
"We express our deep regret over the accidental incident at the migrant detention centre in Sanaa," Houthi Deputy Foreign Minister Hussein al-Azi said on Wednesday, according to rebel-controlled Al-Masirah TV.
"There is an investigation into the reasons for the incident," he added.
While Mr Azi is the first rebel official to express regret for the fire and the first to give a final casualty toll, he did not address Human Rights Watch's report.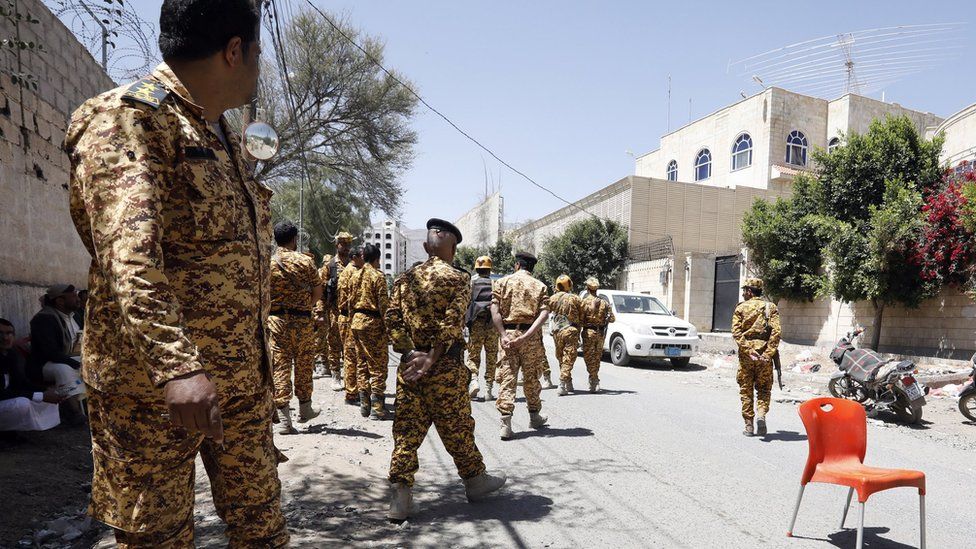 Witnesses told the group that detainees had been protesting against cramped and unsanitary conditions at the facility on 7 March, when guards and Houthi security forces rounded up hundreds of them into a hangar.
One member of the security forces climbed on to the roof of the hangar and launched two projectiles, according to the witnesses. The first produced smoke and made their eyes water and sting, while the second exploded loudly and started a fire.
HRW said it could not verify the type of projectiles used but that the accounts indicated that they could have been smoke grenades, tear-gas cartridges or stun grenades.
"I was terrified, I felt like my mind was blocked with smoke. People were coughing, the mattress and blankets caught fire," a 20-year-old migrant was quoted as saying. "People were roasted alive. I had to step on their dead bodies to escape."
HRW said there was a heavy security presence in hospitals following the incident and that forces had reportedly rearrested migrants who were not severely injured.
"The Houthi authorities need to hold those responsible to account and stop holding migrants in abysmal detention facilities where their lives and well-being are at risk," said Nadia Hardman, HRW's refugee and migrant rights researcher.
The UN's envoy to Yemen, Martin Griffiths, later told a Security Council briefing: "There must be an independent investigation into the cause of the fire to settle the claims which are now a matter of public commentary.
"All people in Yemen, regardless of nationality, deserve protection and to be kept safe."
Despite Yemen's war, tens of thousands of migrants – mostly from the Horn of Africa – try to pass through the country every year, hoping to find work in Saudi Arabia. But the borders are closed and the migrants are stuck there.